We offer a wide range of steel pipe insulation
---
Our offer includes a full range of insulation for steel pipes in the diameter range from 159-2400 mm. Steel pipe insulation is an excellent way to increase their resistance to corrosion, mechanical damage, and chemical or temperature influences.
We will be pleased to insulate steel pipes with diameters from 159 to 2400 mm and lengths from 6 to 16 m. Both seamless steel pipes andwelded steel pipes can be insulated.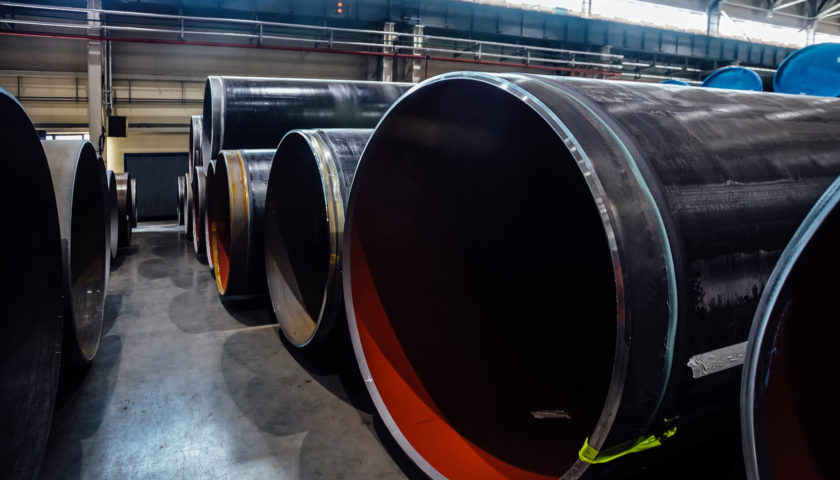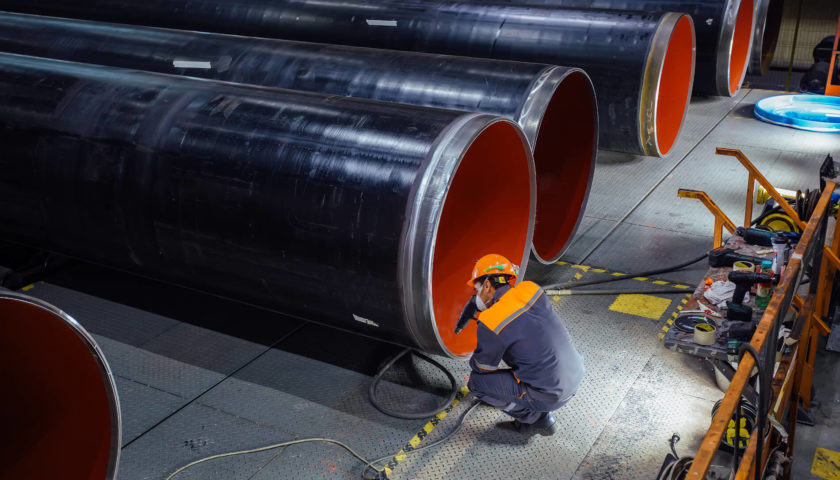 Assistance in choosinginsulation for steel pipes
---
We will easily help you in choosing the type of insulation of steel pipes that will adapt them to the needs of your project. Each insulation is made by us in full compliance with European standards, which is a guarantee of its excellent quality and durability.
Insulation of steel pipes in Eco-Tech is carried out with the utmost care for the adhesion of the insulation to the pipe surface. Our services also provide the possibility of joining pipes later, without fear of damage to the insulation.
The offered types of insulation of the anti-corrosion protection on pipes
---
three-layer polyethylene insulation – 3LPE according to DIN 30670,
three-layer polypropylene insulation – 3LPP according to DIN 30678
single-layer epoxy insulation – FBE according to DIN 30671
bituminous insulation ZO-1, ZO-2, ZO-3, ZM, WM, WW
external insulation on pipes 3LPE, 3LHDPE, 3LPP, and EP according to DIN 30670, DIN 30672, DIN 30678, DIN 30671
external anti-corrosion coatings SYNERGY insulation class A50, B50, C50 Standard PN-EN 12 068: 2002
polyurethane internal and external insulation on PROTEC pipes Standard PN-EN ISO 12944; PN-EN 15655:2009 and PN-EN 10290
internal cement coating on pipes
painting external and internal surfaces
Thanks to well-selected and made types of pipe insulation, you will get:
---
high resistance to mechanical damage
resistance to chemical agents, moisture, electrical breakdown, exposure to high temperatures and ultraviolet rays,
high adhesion of the insulation to the surface of the pipe,
the neutrality of the insulation towards the natural environment,
corrosion protection of underground pipelines for about 50 years,
complete protection of steel pipe welds,
the possibility to connect insulated pipes without damaging the insulation,
unit resistance of the gas pipeline transition.
The use of insulation on steel pipes
---
wastewater and post-treatment water pipelines,
other industrial pipelines with an operating temperature in the range of -70oC to +50oC,
drinking and industrial water pipelines,
fuel pipelines, industrial pipelines in refineries, fuel stations and other chemical plants,
other industrial pipelines with an operating temperature in the range of -70oC to +600oC,
pipelines in power plants,
fire protection pipelines,
chimneys,
gas pipelines,
pipes for drilling,
jacking pipes,
line pipes,
casing pipes.